The Client:
Shakespeare's England is a not-for-profit membership organisation and a public-private sector partnership.  Recognised by Visit England and Visit Britain as the official tourism body for the South Warwickshire region, which includes Stratford District Council, Warwick District Council and Warwickshire County Council. Based in Stratford-Upon-Avon and working with the Tourist Information Centres in Stratford-Upon-Avon, Kenilworth, Warwick, Coventry, Rugby and the surrounding areas.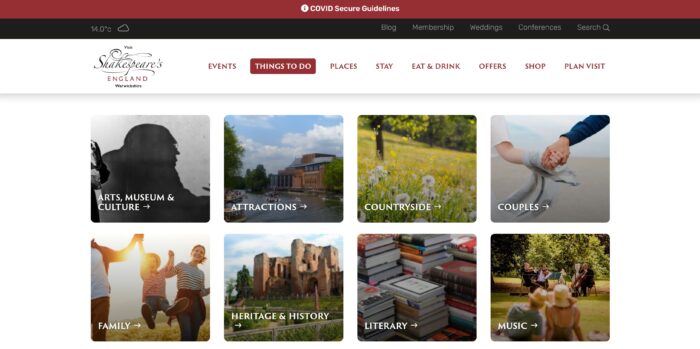 The Brief:
Shakespeare's England tourism website had quite a poor usability and performance issue with the existing site and needed a complete overhaul.
The website can attract several hundred concurrent users during busy periods, the existing website framework could cope with around 10 at a time, the result was a very poor user experience.
We were tasked with improving the user experience, performance, resilience, scalability and administration of the site. All issues were extensively addressed through a number of collaborative workshops.
We advised that from a user experience perspective they needed to be quickly informed of the core purpose of the website to justify their decisions for visiting the site. This needed to be ascertained from an amalgamation of correct positioning of the logo, branding and dominant images and to a certain degree the hierarchy of information in the website.
Rapid prototyping was required using existing data modules along with combining established elements and migrating content.
The interface had to be easy to use, easy to learn and was specifically targeted at the member's area and admin functions. The design has ensured that the user could comfortably and effectively use the interface to accomplish their goals.
Accessibility was very important to Shakespeare's England, as such the new website follows WGAC2.1 guidelines strictly.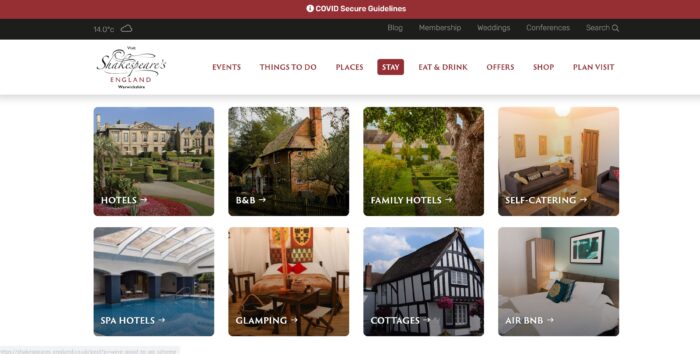 The Result:
The tourism website is eye-catching in design which is full of information for both visitors, residents and members.
Working as a team with the Shakespeare's England team we fully understood their objectives and advised and created simple navigation for the best user experience.
The tourism website is image-led, which makes it attractive to users, with plenty of shareable content.
There are many functionalities created specifically for the website including-
Analytics for individual members
Membership area with secure login
Search
Events
Itinerary
e-commerce
Members Directory
Tagging
ViDi Guides
Google Maps
Google analytics
CMS
As with any tourism website, it is essential that the site is kept up to date with upcoming events, new offers etc…
The CMS created is very user friendly, allowing different user levels to be created so that different members of the Shakespeare's England team can make amendments according to their roles and responsibilities.
Helpful bespoke shortcuts have been created to reduce administration time.
Nerdy Stuff
Hybrid HTML5 and WordPress website
HTML5 wrapped mobile app
Nested logins to the resource management system
Bespoke admin CMS built on WordPress technology, enabling the ability to create and update member profiles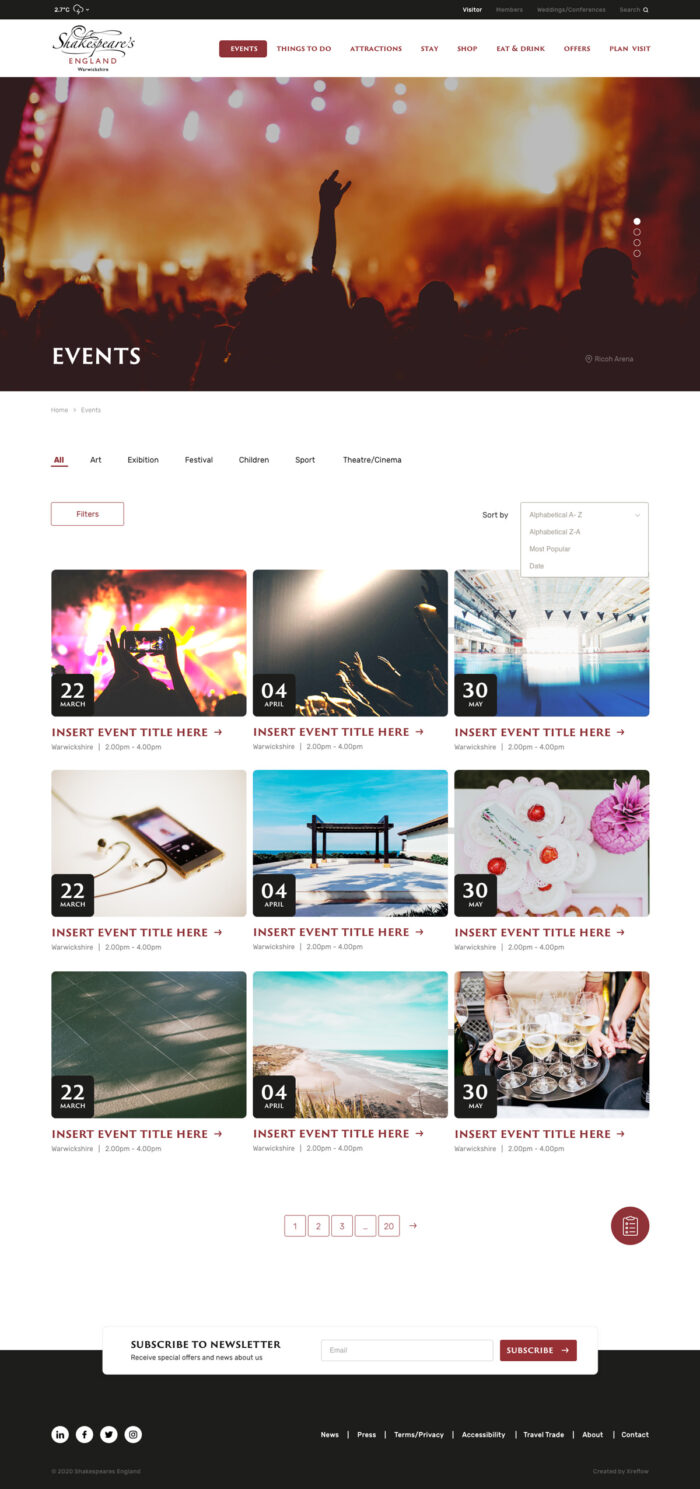 Extra Packages:
Shakespeare's England has a small team and they are very busy, they were very aware that being able to maintain their website themselves was going to be a difficult juggling act.  Although they are competent in using the website and the CMS, they required extra support and peace of mind that should they have an issue, or need something more technical changing they had somewhere to turn to.
The organisation decided to join our maintenance package, this gives them their own support desk and access to our technical team.
XRF Digital also has the responsibility of ensuring that the website performs at its optimum level and all updates and patches are run.  This is an area that many smaller companies overlook, and if left can cause a website to fall in ranking and be vulnerable to hacking.
The package also includes a full backup should the very worst happen their tourism website would be back up and running within a matter of minutes.
If you are a small organisation and do not have an IT department, a maintenance package is ideal for you, get in touch today to discuss your requirements. Link to XRF Digital contact page