Why Do I Need A Favicon?
When we create websites for our clients we always ensure that there is a favicon in place, but what is a favicon and what is the point of one?
What is a favicon?
It's simply a small icon that sits on the tab of an opened website page or shows in lists next to your website URL, so basically anywhere on the internet where your website lists, your favicon will show.
If you do not create your own favicon then a search engine such as Google will put a generic one in.
If someone is searching for something on the internet and your URL is listed in the results, you want a person to click on your URL.
Having a favicon that is part of your branding should give the user more confidence in using your website, and will make your website recognisable to visitors looking for your product/company.
As with any business, branding is essential to make sure that you are recognisable and stand out from your competitors, a favicon is simply an image of your choice which matches your branding, in many cases, the favicon will be a 16x 16 pixel of your logo, this is what our clients usually go for, and to be honest what better way to continue your branding than to use an already recognisable logo.
Due to the size of a favicon, you could use a part of your logo, as we do at XRF Digital see the image example.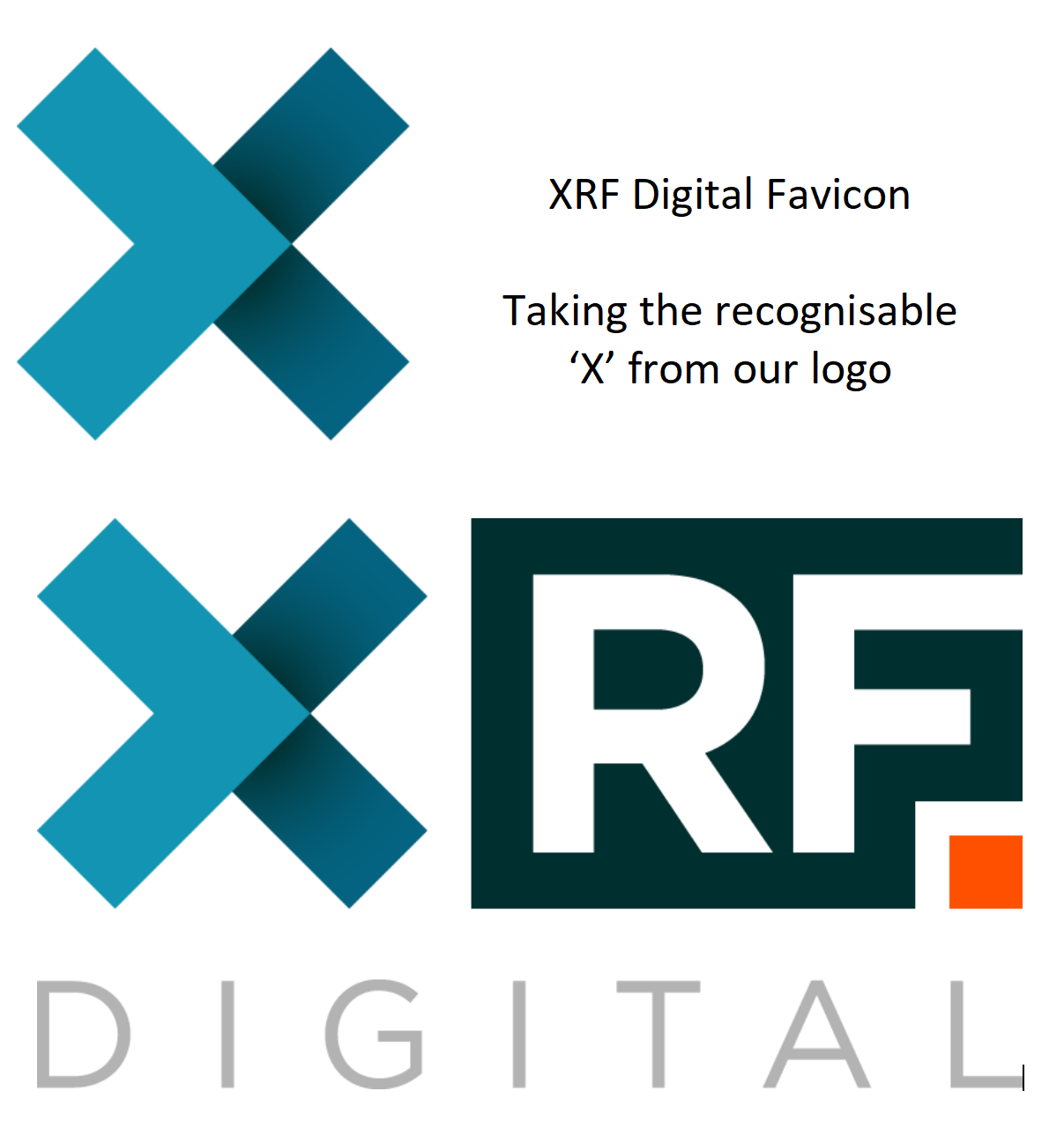 What is the point of a favicon?
If like me during the course of a day you have lots of tabs open it is very handy to have a favicon, so a user such as myself, can quickly recognise the tab they require.
Having a favicon for your website should be part of your strategy for creating a better user experience.
So although having a favicon will not help with your ranking, it does play a small part in creating a better user experience when someone visits your website which does affect your ranking.
How Do I Add A Favicon To My WordPress Website?
WordPress Website:
Log in to your WordPress website to access the backend
On the left-hand side menu of the WordPress dashboard click 'Appearance'
In the sub-menu which appears click on 'Customize'
Go to 'Site Identity'
Go to 'select site icon'
Choose your favicon from your image library. WordPress has made this super easy, it will allow you to crop the image you choose to the correct 16 x 16 pixel requirement.  This will allow you to choose exactly what you want to show as your favicon.
Useful links Favicon Related
Favicon cheatsheet can be found on GitHub
There are a few free online favicon generators online-
Favicon is very easy to use, simply choose what you want to convert, or create a new favicon from an emoji for example.  You can create a favicon in a matter of seconds.
I really like this generator, as it gives you more options if you are using your existing branding and logo.  Once you have completed all the on-screen steps, you can download a zip file with all your created favicons.
Furthermore, it has a nice testing tool to check that you have implemented your favicon correctly.
Big thanks to Jessica who contacted us and said she uses the following tool, which works very well. She said –
this tool allows you to create favicons from pictures that are up to 5 MB from either JPG, PNG or GIF or even from a gallery!