The Brief:
XY Capital are an expanding business that came to XRF Digital as they needed a complete overhaul of their existing website which no longer portrayed the companies ethos and was dated.
The company mission is "To trade every financial instrument in the world, 24 hours a day, 7 days a week."
XY is made up of Traders, Quantitative Researchers, Technologists and Operations personnel the company combines technology and trading to reach the best results for their clients.
The Group required a new, modern, sleek website design implemented that properly reflects their brand and services, with extra functionalities to include job postings.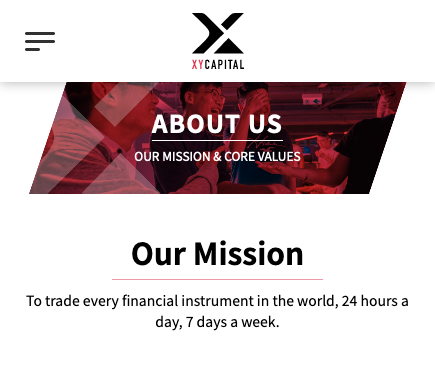 The Result:
A Modern, Sleek, mobile-first Design with easy navigation, which is fully responsive on all viewing devices.
The website is built on a WordPress platform, the CMS has been created so XY Capital have full control over the website allowing them to adjust/edit and add content, keeping the website fresh and up to date.  Furthermore, a portable backup of the finished product was made available, allowing the client the choice to move the hosting provider if they wish to do so.
The new website has a Careers/Job Posting Functionality
Demonstration/Tutorial Videos were created for the client which they are able to keep hold of and pass on to new staff members or just rewatch as a reminder of how to administer their website.
XY Capital brand guidelines were followed and the new website now reflects the company brand and message.