The Brief:
ProAid is an exclusive members club, offering a legal introduction service to London's leading barristers & solicitors offering legal services across all areas of law at discounted rates.
ProAid approached XRF Digital as they were looking to launch their new business and membership website.
They required the user to be quickly informed of the core purpose of the website facilitating the introduction of website users, to professional service providers in a 'membership' style fashion.
Ascertained from an amalgamation of logo, branding and dominant images and to a degree the hierarchy of information.
The interface needed to be easy to use and easy to learn how to use specifically targeted at a members area and administration functions. (A user should not need to consult manuals or how-to guides) A user will comfortably and effectively use the interface to accomplish the goals that it has been designed to support.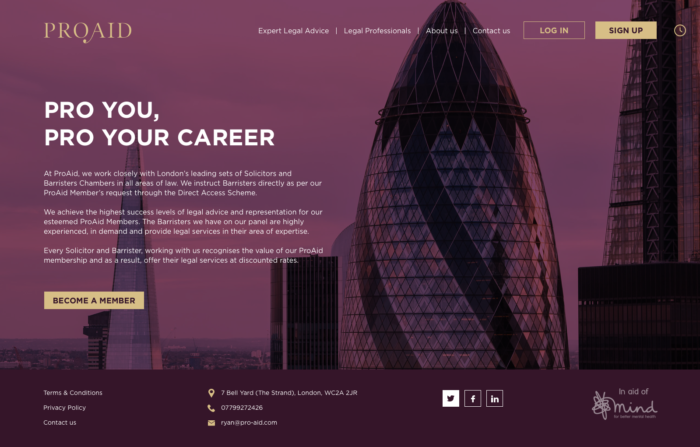 The Result:
The XRF team created an impactful and appealing design to maintain user engagement.
The website is membership based and required a subscription E-Commerce with WooCommerce integration.  The member's area is simple and efficient. Contact service providers via a simple contact form within the member's area.
Our content writers worked with the client to provide fully optimised copy throughout the website.
Our coders created bespoke coding for optimised site/page loading times.
The website is fully responsive on all viewing devices and fully optimised for mobiles.
As part of this project, we created and set up Google Search Console & Analytics.
Nerdy Stuff
WordPress platform
WooCommerce