The Brief:
Northern Health required a multi-platform mobile app and website with custom integration of Rotamaster into a bespoke CMS and admin system, due to an API not being available.
Founded and run by a team of GPs, supported by business professionals. Northern Health places GPs into Urgent Treatment Centres 24/7, 365 days a year, operating in local hospitals predominately in the Yorkshire area, spreading across the UK.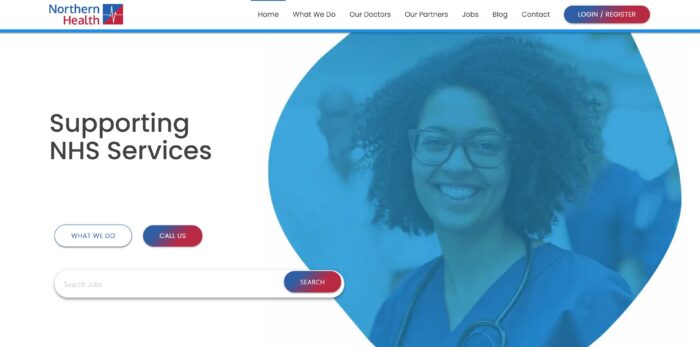 The Result:
Our project team worked closely with the Northern Health staff to make sure we fully understood the objectives of the business, so we could translate this across to the app and website.
On landing on the website a visitor immediately understands the industry sector, with clear information and navigation.  CTA's have been placed for speed, the overall performance is very fast.
Once a user has registered and logged in they are taken to their dashboard.  Dashboard information includes jobs taken, completed and paid.  The ability to update profiles with image upload, and document upload for attaching qualifications and certificates.  Availability calendar
Seamless Integration to third-party software, bespoke coding created in the absence of an API.
CMS
As with all the websites we create we want the client to be in full control of their website.  Within this particular CMS were bespoke functionalities, we spoke to the client to learn how they would manage certain areas, once we had a full understanding we created shortcuts in the CMS to minimise administration time.
Nerdy Stuff
Hybrid HTML5 and WordPress website
HTML5 wrapped mobile app
Nested logins to the resource management system
Bespoke Rotamaster integration with custom coding
Bespoke admin CMS built on WordPress technology, enabling the ability to create and update doctor profiles, user profile access depending on grade i.e. Grade 5 medical personnel vs Grade 6 personnel