The Brief:
The client came to us with the following idea….. to create an interactive website that includes a database of all the tenement buildings which they service.  Where the flat owners can engage with each other in funding repairs, maintenance or cleaning of the communal areas.
Where the clients can also book and pay for other services offered, and invite neighbours within their tenement building to also go along and fund the service.
The website needs to be easy to navigate, with a secure payment area and secure login area for returning clients.
The website needs to be fully compliant with all legislations-
Privacy policy
GDPR
Cookie Policy
T & C's
SSL certificate
All the above implemented, GDPR and SSL certificates implemented as standard.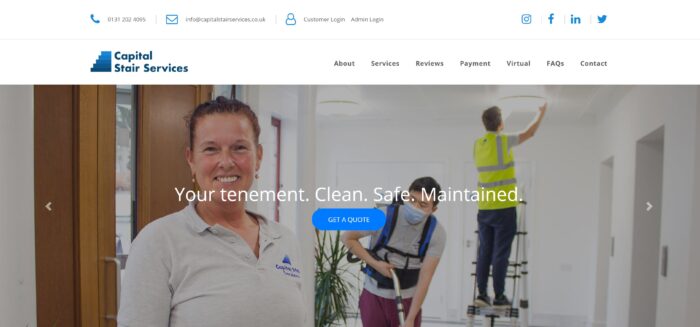 The Result:
A stunning website created by the XRF team working closely with the client.  The website has been designed to bring tenants together and to create a community within buildings.
The website is easy to use and is shareable between neighbours.
There is a secure payment portal for tenants to contribute to certain services, making things easier for those who previously had to manage this manually.
A secure login area has been created for users, with a shared community area for their specific building.
CMS
It was important for our client to have full control over the website.  There is a full audit log showing all interactions from logins to payments for transparency whilst adhering to privacy policy regulations.
Our client has the ability to add users within his staff and set levels of access.
The CMS is flexible for the client allowing new page creation using page templates created to keep the uniformity of the site.